What Are Soft Close Drawers?
The Advantages of Soft Close Slides:
Under-mount drawers with soft close technology have become one of the hallmarks of high quality cabinetry and closet systems. This type of drawer is in high demand with consumers and there is a lot of industry hype promoting it.
If you are buying a new closet system, you want to be sure it includes soft close drawers. But what is it exactly?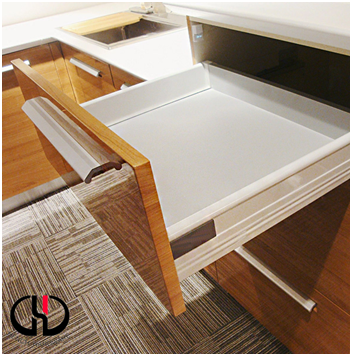 Soft close slides with hydraulic dampener ensures that your drawer closes quietly and smoothly each and every time, even when slammed shut.
How Do Self Closing Drawers Work?
Soft close is a premium feature that is available on certain types of drawer slides. It allows drawers to close silently and smoothly. When you close a drawer or cabinet with this feature, just before it's completely shut, the soft close mechanism takes over and closes the drawer or cabinet the rest of the way. It's almost like magic. You may find yourself wondering "how do self closing drawer slides work?" The mechanism is able to do this because of the special built-in hydraulics. Every soft close/self close drawer slide is equipped with a spring and piston system (aka the hydraulics) to control the closing of the drawer. Furthermore, each drawer slide consists of three major parts, the sliding arm, the metal housing it is attached to, and a set of drawer runners. The metal housing is the stationary part of the system. It is the hardware that mounts to your closet or cabinet. It contains a moving/sliding arm that is is attached to drawer runners, enabling the drawers to be opened and closed. Drawer runners are metal channels that are mounted to the drawer box. When a drawer with a soft close slide is about 75% closed, the sliding arm catches on the spring and piston in the metal housing so that the drawer is gently pulled closed the rest of the way. The advantages of this include:
Drawers are self closing and will never be left ajar. A gentle push is all it takes to engage the mechanism which closes the drawer the rest of the way.

Doors and drawers with soft close cannot be slammed shut, ensuring they close gently and silently every time.

With the smooth soft close, drawer contents stays put and does not get jostled around.

Soft close is safer because fingers cannot get accidentally smashed in the closing door or drawer.

Drawers with soft close tend to last longer, because the gentle close puts less stress on the drawer box and cabinetry.
It is important to understand what you are buying before making any purchasing decision. There are several different types of drawer slides on the market. Some can include soft close operation, and some cannot. By drawer slide we mean the metal sliding mechanism that is attached to the drawer box. This sliding mechanism can be attached either to the sides or underneath the drawer box depending on type. It is what allows drawers to roll open and close. Soft close is the hydraulic dampening mechanism that is part of certain drawer slides, allowing drawers to close silently and smoothly.
Types of Drawer Slides
There are four main types of drawer slides —
1.EUROPEAN SLIDES:
Euro slides are an epoxy coated slide that rolls on nylon wheels. These are not available with soft close. This type of slide is typically used on a standard pull-out shelf.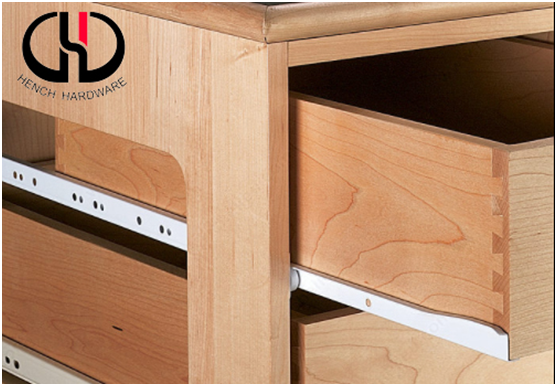 For our euro slide we usually used on thin cabinet side panels, drawers usually hold lighter items
2.BALL BEARING SLIDES:
The slides open drawers by using small ball bearings that roll smoothly and relatively quietly. They are mounted to the sides of the drawer box. The zinc coated, metallic silver slide is highly visible when the drawer is in the open position.
This type of slide does not usually feature soft close technology.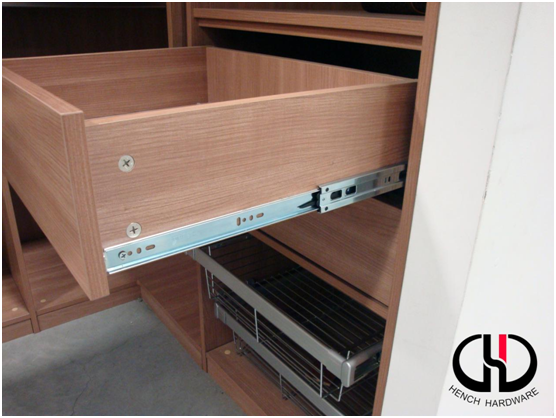 The ball bearing drawer slide the length can be 250 to 550mm, the short slide rail can be used in the drawer of the dressing table, the conventional slide rail can be used in the daily drawer
3.UNDER-MOUNT SLIDES
As the name suggests, these types of slides mount under the sliding shelf or drawer. They are installed in pairs, with one on each side of the drawer box. Because they sit underneath the drawer, they are hidden from view — even when open.
They are usually full extension and are generally the most expensive type of drawer slide. This type of slide works best on regular cabinet or closet drawers that have a face and a handle. This type of drawer slide most often features the soft close technology.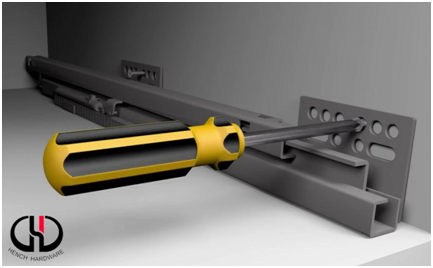 When you use themount under slide,the cabinet is beautiful,the soft closing function make it use smooth and softly.
4.METAL BOX DRAWER SLIDE
Metal Drawer Systems give you the most when it comes to both design and performance. They offer endless possibilities for metal drawers with unmatched versatility. If you are looking for high end designs or for a more economic solution,
we have the right options for you from the best drawer slide manufacturers.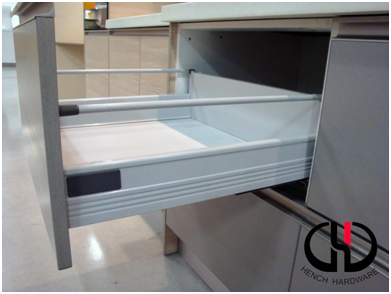 Under mount drawer slides are used when people want the slides to be completely out of sight so people can see their cabinets' beauty.