Drawer slides are simple mechanisms that allow you to open and close your drawers, but they're nowhere near as simple as they look! There are various types of drawer slides, all with different applications in home and industry.
Drawer slides are an essential part of any cabinet system. If you're shopping around and looking at drawer slides, it can be difficult to determine exactly what kind you need when it comes to pullouts and drop-ins. The best way to buy the right ones is to know exactly what the different types of drawer slides are so that you can make the right choice based on your needs.
Understanding the different types of drawer slides can help you pick the best option for your project, so read on to learn about each type and where it's used.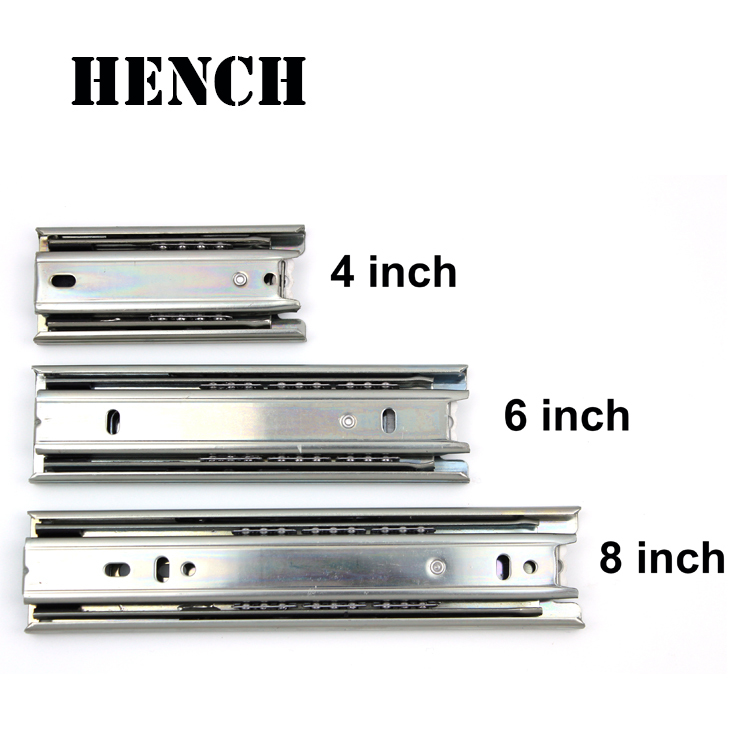 How to choose Drawer Slides?
When looking for drawer slides, you'll have a variety of factors to consider. Should your drawers have metal slides or wooden ones? Ball-bearing slides or non-bearing ones? All these questions and more are easily answered once you know what type of slide will fit best with your application.
We've gathered together some information about some of our most popular drawer slide types that will help you make your selection process go smoothly! You can also easily get custom drawer slides, so contact us today or directly place your order.
Types of Drawer Slides:
There are two types of drawer slides: ball-bearing and non-ball-bearing. Ball-bearing slides allow for smooth movement, while non-ball-bearing ones don't; they get stuck more easily and make it harder to open your drawers. While ball bearing drawer slides are usually a bit more expensive, they're worth it because they provide a smoother operation.
1. Ball Bearing Drawer Slides
2. Heavy duty drawer slides lowes
3. Soft close Ball Bearing Drawer Slides
4. Under mount Drawer Slides
5. Side Mount Drawer Slides
6. Center Mount Drawer slides
7. Roller Slides
Heavy duty drawer slides lowes:
When choosing a heavy duty drawer slide, it's important to pick one that matches your specific project. If you have large drawers that will require a lot of weight to be carried on them, you'll want to look at top-rated heavy duty drawer slides lowes . These slides are larger and stronger than standard types of slides, and can support heavier loads without issue. The size of your drawer also dictates what type of slide you need.
Ball Bearing Drawer Slides:
The ball-bearing slides are smoother and more robust than other slides, making them a favorite for higher volume environments. They are built to last and have multiple adjustment options that allow you to customize it to fit any drawer.
They're also simple to install, so no extra tools or equipment is required. These slides will smoothly glide open drawers, even with a lot of weight in them, so they're great for homes with children or pets. If you're looking for smooth operation, these are a good choice.
However, they can be noisy when opening and closing because of their construction. This can be a problem if you want your cabinets to be quiet. Also, if your cabinet is used as storage for fine china or glassware, keep in mind that it might not be ideal due to noise level issues. This may not be an issue if there's not much activity in your kitchen but could pose problems if people are constantly moving around.
Soft close Ball Bearing Drawer Slides:
If you want to protect your fingers and wood, these drawer slides will give you an easy time when shutting your drawers. They roll smoothly and come with a soft-close feature that gently pushes your drawers shut. The sliders are available in several sizes, giving you more than enough options for fitting them into your dresser or other furniture. The ball bearings ensure no sound and efficient operation which makes these great for noisy kids' rooms.
These also have a wide range of styles from antique brass to satin nickel so they can fit almost any decor. You can choose between single and double slides as well as different lengths so you'll be able to find exactly what you need. These are also pretty affordable so they won't break your budget. Soft close is one feature that everyone should look for on their drawers because it's such a nice touch!
Under mount Drawer Slides:
They are also called concealed slides, and they mount under a piece of furniture where a small box is installed to house them. Once they are installed, they cannot be seen by anyone. The other great thing about these drawers is that they provide really smooth movement while opening and closing, allowing your drawer contents to remain undisturbed.
They can come in various lengths and heights, making it possible for you to choose one depending on how big or small your cabinet space is. Their only downside is that they cost more than their counterparts. However, if you want something that will last long without costing too much money, then these are what you should get.
Side Mount Drawer Slides:
What is a side mount drawer slide? It's an option that allows you to install your drawer box (or carcass) directly into your cabinet as opposed to on top of it. Side mount drawer slides are incredibly strong and durable, allowing for greater weight capacity than front mount slides. And, because they pull on both sides, they can help reduce drawer rattle. However, since they go inside your cabinet rather than sitting on top of it, side mount slides can make it more difficult to change out hardware or replace components if something goes wrong. They also tend to be more expensive than front mount options.
If you have cabinets made from wood, side mount slides may not fit properly without some modification. Finally, they require more space between drawers so that two drawers can move simultaneously in each direction—something to keep in mind if your kitchen is already tight on space.
Center Mount Drawer slides:
center-mount drawer slides come as part of a system, with rails that have to be mounted in your drawer. These are particularly good for drawers you open often and want to stay in place while they're open. The downside is that they take up more space than other types of slides. Lateral Drawer slides: these consist only of a pair of wheels which you can mount on either side of your drawer. They're easy to install, but it's important to make sure there's enough room between them so they don't rub against each other when you open or close your drawer. Full Extension Drawer slides: full extension drawer slides provide maximum access by extending out from both sides of your cabinet or dresser.
Roller-Slide Systems:
One advantage roller-slide systems have over conventional drawer slides is a significantly larger range of travel. The smooth action and added benefits do come at a premium, however. When installed into mobile bases, these systems run roughly 20 percent more than traditional slide systems.
Aesthetically, these slides offer more versatility than other styles because you can use them to create almost any look you desire with custom paint options for either a painted finish or custom powder coat. These are also one of two types that can be used on drawers in standard height cabinets.
Roller-slide systems are available in both full extension and half extension. Half extension rollers provide ample storage space while still allowing room for accessibility from above. Full extension rollers allow users to access items stored in bottom drawers without having to remove items from top drawers first. This system is ideal if you plan on storing tall objects like bottles or vases in your cabinets.